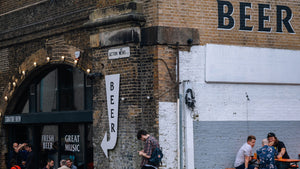 Signature Brew Haggerston
---
Based in a railway arch next to the Regent's Canal in Haggerston, East London, Signature Brew Haggerston is a place where great beer and music come together.

Signature Brew Haggerston, Railway Arch 340, Acton Mews, Haggerston, London, E8 4EA

020 7923 9417

General Enquiries
haggerston@signaturebrew.co.uk
About Signature Brew Haggerston
The space serves up huge tunes, live events and, of course, the freshest Signature Brew beers available, straight from the brewery - and 7 days a week.
We also pour guest beers from some of our favourite other breweries across the world, as well as hearty offerings of wine and spirits.
Signature Brew Haggerston is dog-friendly and also has an outdoor terrace near the canal, perfect for warmer days.
See our events listing page
The bar also boasts London's only dedicated space for live music photography previously featuring the likes of photographers Andy Ford and Andrew Timms who's exhibitions included the likes of Childish Gambino, Charli XCX, Foo Fighters, Manic Street Preachers, Jay Z and previous Signature Brew collaborators Slaves and Heck.
Signature Brew Haggerston embodies our passion, independence and artistry, while bringing our love of beer and music closer than ever before.
Come down and join us for fresh beer, great music and good times. 
See Inside Signature Brew Haggerston
alt-J Launch Their Beer And Our East London Taproom & Venue
Don't take our word for it
★★★★★

Good bands and beers what more could a person want?
★★★★★

Lovely space outside along the canal, good selection on tap, really nice staff
★★★★★

Great spot to finish a walk along the canal. Nice selection of beers and great live music.
★★★★★

Good beers and a place you could sit in all day