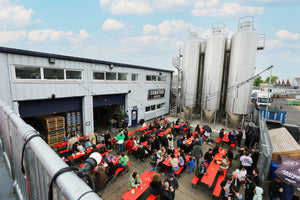 From award-winning band collabs to brewery of the year
Hi, we're Signature Brew and we're reinventing what it means to be a brewery. We are on a mission to unite people through the power of fresh beer, great music and unforgettable experiences.
From our state-of-the-art brewery/music venue in Blackhorse Road, London, we're creating a world of incredible beer and music, built around people, passion and creativity.
This ethos, along with our commitment to the community and the environment, means we're the only brewery to have won SIBA's prestigious Brewery Of The Year Award twice (2018 & 2021).
Our perfectly-tuned flagship beers – Studio Lager, Roadie IPA and Backstage IPA – are beloved by drinkers throughout the UK, while our seasonal sours, New England IPAs, alcohol free craft beers and barrel-aged imperial porters are guaranteed to hit all the right notes.
Since we started in 2011, our legendary band collaboration beers have seen us brew with more artists than any other brewery in the world, including the likes of Hot Chip, alt-J, Mastodon, IDLES, The Darkness, Sports Team, Enter Shikari, Big Joanie, Mogwai, Ed Gamble and Hospital Records.
Welcome to our world, everyone's invited.
The Signature Brew Story So Far...
2011 | Signature Brew Founded
Tom Bott & Sam McGregor found Signature Brew, launching a collab beer with The Rifles at The Troxy, Shoreditch
2012 | More Band Collabs
Signature Brew launches beers with Enter Shikari, Dry The River, Craig Finn & Mastodon
2013 | Frank Turner & Hospital Records
Pitchfork, NME, Rolling Stone & Kerrang! announce our collab with Frank Turner, and we release the first of four beers with Hospital Records.
2014 | Overseas Export
Signature Brew beers are exported overseas to the USA for the first time and are named 'Top Of The Hops' by The Guardian
2015 | Brewery Opens
The brewery opens in Leyton allowing for a significant increase in production & quality control. We also release a beer with Heck at warehouse party gig
2016 | Core Range Released
Our core range of beers are released: Studio Lager, Roadie, Backstage IPA & Nightliner. We also collab with Millencoin
2017 | Festivals & More
We take our beer to Slam Dunk Festival with The Bronx, Frank Iero & Against Me! Foo Fighters request us at their pop-up pub and we pour beers at The Killers & Metallica shows. Plus we collab with Slaves, Rodney P & The Skints
2018 | SIBA Taprooms & Collabs
We're crowned SIBA's Brewery Business Of The Year. The Taproom & Venue opens in Haggerston, and collaborations with Lightyear, alt-J & Mogwai are released
2019 | The Big Move
Queen Bee is brewed with the Women of Manchester Punk Festival and The Collab opens in Walthamstow. We move from Leyton to Blackhorse Lane following an over-funded crowd-funding campaign and we collaborate with IDLES
2020 | Needs No Introduction
We collaborate with Norway's Nogne & The Women Of Manchester Pink Festival for IWD 2020, raising money for NHS charities We launch our Pub In A Box, local deliveries are done by unemployed musicians and it features on GQ, Timeout, LADBible and more We also collaborate with Sports Team, DRS, Dynamite MC, and brew a a seasonal bitter with The Darkness
2021 | Brewery of the Year, Again!
We pick up the SIBA Brewery Business of the Year Award for an unprecedented second time and the SIBA Marketing Award for a second time, too.
Elsewhere, we launch Signature Brew Beer Grants to help independent venues, & bring our stage to Bigfoot Festival with collab beers from Hot Chip, Pigs x7, Big Joanie & The Wytches.

Oh yeah and we host Dialled In Festival (with a surprise set from Skrillex), comedy gigs from Ed Gamble and Tim Key and a charity BBQ cook off with Michelin star chefs.