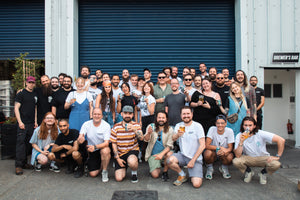 As a company and as individuals, we are committed to making a positive impact on the world and the people around us. With that in mind, we have laid out our commitments to people, ethics, sustainability, charity support and more, below.
Equality, Diversity & Inclusion
We are committed to encouraging equality, diversity and inclusion among our team members and subcontractors, and eliminating unlawful discrimination.
The aim is for our team to be truly representative of all sections of society and our customers, and for each employee to feel respected and able to give their best.
Signature Brew – in all of our practices, across all of our sites – are also committed against unlawful discrimination of customers or the public.
London Living Wage
Our commitment to continuing as a London Living Wage employer is unwavering across all of our sites inclusive of all staff.
Supporting Charities
Along with brewing collaborative beers with musicians and bands, we also collaborate with several charities to help fight the good fight.

In 2020 alone we brewed beers with Other Half NYC and the women of Manchester Punk Festival to raise funds for the hospitality sector and NHS Charities Together respectively in celebration of International Women's Day.

We also support Off Tracks, a group of independent DJs who have been raising money for incredible causes via live streamed charity gigs, as well as regularly supporting CoppaFeel events raising awareness and funds to fight breast cancer.
Supporting Musicians
As well as great beer, Signature Brew also stands for great music. When the pandemic hit, we were determined to help musicians who had already had the likes of headline shows, overseas tours and even Glastonbury slots cancelled with no compensation or prospect of rescheduling.
In the face of adversity, opportunity presented itself. What if – we asked ourselves – we hired as many out-of-work musicians as possible to help us deliver our newly conceived Pub In A Box to people's homes?

After all, if anyone knows how to drive a van, load in heavy objects and make peoples' days… it's musicians. Everyone from festival headliners The Skints, to independent local musicians, signed up to help keep the beer flowing.
This is just one of the many ways we're committed to helping the music industry and the people who make it happen.
Supporting Independent
At Signature Brew we pride ourselves on supporting independent.
Whether it's with independent musicians through our band collab beers and booking them at our venues, to sourcing local & independent products at our takeaway shop or working with independent record labels, we fully recognise & support the value in independent endeavours. 

Sustainability
At Signature Brew we're dedicated to being as sustainable and eco-friendly as possible.
Our brewhouse is heated with a highly efficient steam boiler, and heat energy is recycled from one brew to the next - so for example, cooling one batch of beer provides the heat & energy for the next.
You'll also notice that we package our beers in cans rather than glass bottles. As well as cans being easier to recycle than bottles, cans are lighter, requiring less energy in transport, and a can's stackable shape allows us to ergonomically pack more into a single space. Likewise, cans are quicker to cool, which in-turn requires less energy to cool them in fridges.
Vegan beers
At Signature Brew we believe if we can make a beer vegan, then we should. We want our beers to be accessible to all.
Many of the artists we work with are vegan, as are many of our team, so we take pride in making great beer that can be enjoyed by as many people as possible. With this in mind, our beers are vegan as standard (with the odd, very rare exception). 
We achieve clarity using a hi-tech centrifuge that pulls solids from the beer, rather than binding those solids with chemical additives, isinglass (fish based) finings or gelatine. Please note, our cask beers are currently not vegan.